今日はタレントドクターOの自宅で医局のお別れパーティーでした。
もともとチーフフェローを終了したM君の卒業パーティーなのですが、イラク派遣のスケジュールが急に変更になって彼が参加できないことに。いきなり主賓がいなくなって、しかたなくこの夏に去るシニアフェローのA君と僕が主賓に祭り上げられてしまいました。
何かしゃべれと言われて非常に憂鬱だったんですが、せっかくだから一発かましてやろうと当日の朝からスピーチの準備。本番は程よく酔っぱらってテンション上げてからのスピーチ。概ね反応は良好で、'I was almost crying!"とまで言ってくれた人もいました。
スピーチの草稿です。適当に書いたので文法はいい加減ですが、言いたい事は伝わったような気がします。
Thank you everybody for coming tonight for us.
And thank you XXX and XXX for hosting this party.
It was almost 8 years ago.
I was a research fellow at XXX after finishing 5 years general surgery / CT surgery training, doing animal experiments everyday, such as mouse heart transplantation, dreaming some day I would be able to perform human heart transplantation.
But I felt frustrated with my situation and even my future.
During my residency in Japan, what I was doing was, watching operations as the 2nd assistant, staying at ICU for post-op management.
No chance to do the case as a surgeon, even as the first assistant because too many senior surgeons were still struggling to get the chance to operate.
There is no organized training system for young surgeons.
I wanted to become a good cardiac surgeon to help patients, but I started to doubt it would be possible.
It appeared what I could do was just waiting and waiting until I become old enough (usually too old) to get the chance.
One day, I was watching a CABG at the hospital, where I was moonlighting.
The surgeon just returned from Australia after finishing 4 years CT surgery training.
His operation was completely different from ones which I had seen.
I was shocked and strongly felt that I had to leave Japan if I want to become a good cardiac surgeon.
But I had no idea how to get the chance.
A couple months later, my boss told me that XXX was looking for a research fellow here at XXXX.
That position was a research fellow, same thing what I was doing in Japan, operating mice everyday.
There was no guarantee for clinical training position, but I thought this might be a big chance.
Go to America, You may get something.
So, I came to NY.
Since then, I have been very lucky, helped by a lot of people.
When I started clinical fellowship here, I could not do anything by myself.
I could not even understand what they were talking during the ICU morning round.
Sometimes, I went to ICU after round and tried to read charts to know what they were discussing in the morning, but in vain.
Their handwritings were also too hard to read.
I was hopeless....
I was afraid to pick a phone call because of language problem, whenever I got a phone call from ICU or floor, I went to see the patients because I was not comfortable to order by phone.
But everybody was very kind and helpful.
Everybody was fair and treated a foreign resident who speaks strange English equally.
Actually, I could not understand why they treated me like that but I realized later.
This is why America is still No1 in the world and lots of people are coming to this country to fulfill their dreams.
I want to thank everybody. I will not mention each person because there are too many.
But I want to thank especially XXX.
He opened the door for me and has supported me since I came here.
I would not be able to become a cardiac surgeon without him.
And I want to thank to my wife XXX.
When we left Japan, I promised her we would return to Japan after 3 years. But I lied. Almost 8 years have passed.
She has had hard time to get adjusted here but she did not give up and raised our son XXXX. He was only 10 months old when he came here and now is 8 years old.
I am returning to Japan.
I have enjoyed working with you and I will miss you very much but it is time to go.
Now, I want to bring what I have learned at XXX back to Japan and share it with young surgeons in my country.
This is one of the ways I can express my thank to you people at XXX.
Thank you.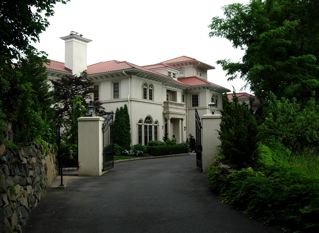 Dr. Oの豪邸。マンハッタンを見渡せる丘の上にあります。地下にはバスケットコートやプレイルームも。部屋がいくつあるか数えら切れないほどです。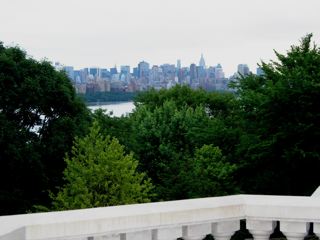 テラスからのマンハッタンの景色。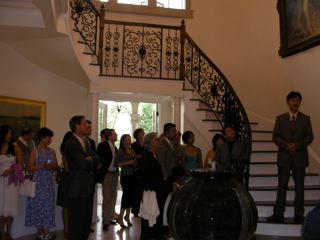 スピーチの様子。Dr.Oからの誕生日プレゼントのスーツを着ていきました。